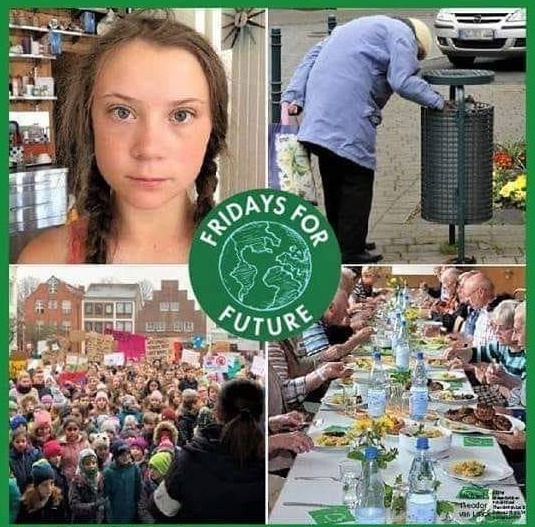 The leftist puppets and totalitarian like mainstreaming
The world has a new innocence role model. A 16-year-old Swede Greta Thunberg. Since the climate summit in Katowice and her appearance at the World Economic Forum 2019 in Davos, the pupil is something of the self-incarnated reason of the true. A staging by a foreign hand?

Greta's warning cry looks like a stranger's staging, which is already suspected of being ideological due to its viral distribution. The whole thing seems like a perfidious indoctrination of a child staging her as a know-it-all. And indeed, it is very difficult for anyone to gain even a spark of authenticity from this living "world conscience", which, like Hegel's world spirit on horseback, but the more presently haunted by the media.
The orchestration of Greta Thunberg by the "social conscience" through the media, looks like nothing more than a media-control from the left, which puts a child from the left hand into the streets.
If one dares to question the mascot of the Greens ideology, exposing it to where it belongs, immediately becomes a target of the left and the green doGooders.
Criticism is referred to an interview of the Swedish student with the German Press Agency, where Thunberg criticized that Germany wants to get out of the coal only in 2038. "That's absolutely absurd. And people think that would be good." she said in Stockholm. Amazing and unreal that a 16 year old girl gets all that press attention for being a nobody; but with Greta one can probably do good business.
In view of such discussions, one can only ask oneself in Germany where common sense has remained. Of course, it is beautiful and admirable when children have visions of the future, criticize the zeitgeist and the hypocritical self-staging machinery of political discourse, but such a hype about a student is clearly going too far. If the left and the greens have such confidence in the childlike spirit, then they should free their places in the Bundestag for pupils and pupils.
Schooling in Germany is mandatory, and it is even a larger disgrace, that the chancellor supports the students protests on the street on Fridays, a demonstration where pupils stay away from school instead of sitting in class to learn.

Greta Thunberg, which suffers from Asperger's syndrome, a variant of autism that on the one hand involves profound developmental disorders, on the other hand refers to a weak social interaction and a stereotyped behavior with limited interests, now has been promoting the new issue of "We do not have time" and have collected around one million Euros.
When the authenticity and ideology seems lost or challenged, one seem to have to shame it putting children or youth up front to distort the masses.
According to the BBC news: In a video released on her official website, Angela Merkel said protecting the climate was a "challenge that people can only tackle together" (in German).
Asked about the Friday school strikes, which in Germany have been dubbed "Fridays for Future", Ms Merkel said the country's climate goals could only be reached with the support of wider society.
"So I very much welcome that young people, school students, demonstrate and tell us to do something fast about climate change," she said.
"I think it is a very good initiative," she added, without making reference to the fact that they were protesting during school hours.

Now this girl really does not come from nowhere. Let us ring the bells:
Greta's mother is the Swedish opera singer Malena Ernman who was the country's entry in the 2009 Eurovision Song Contest. Her father is actor Svante Thunberg, whose name was given after a far relative, Svante Arrhenius, a Nobel Prize winning scientist. In 1896 he first calculated the greenhouse effect caused by carbon dioxide emissions.
The right-wing Swiss magazine Weltwoche published an article entitled "We're making a Climate Icon". The article states that the success is largely because of the Swedish PR expert Ingmar Rentzhog, who connects into several propaganda organizations. It unmasks, that shortly after Greta began her strikes, her mother published a book. On the day the book was released, Mr. Rentzhog published a picture of Greta on strike on Instagram and publicized an article about her on Facebook. On top of that, Greta Thunberg was portrayed giving her speech at the UN summit in Katowice to almost no audience. Swedish public television, having arranged the pictures, gave the false impression that she had spoken to a large audience.
The media have contributed little to clarify the matters, but has almost exclusively released reports celebrating Greta Thunberg.
How about this, dear Greta believers:
A full day program on Sundays. Demonstration against poverty of the elderly and pensioners. A visiting initiative for lonely and isolated people in society. Helping to give out food to the poor and giving out clothes to the needy. What about a demonstration against governments sucking empty the social welfare and destroying the local industry? Oh and that would be all on one day. You would not use electricity, but only your energy without PC, smartphone and TV.
By Thomas Fleckner